VFAN Vintage Air Circulator by Vornado, the breeze with style Fan!
Disclosure: I received a product for this post. I am disclosing this in accordance with the FTC guidelines.
My house is filled with some really amazing vintage items that I acquired and inherited. Things include vintage furniture, tables, chairs, lamps, and dishes, as well as this cute stylish VFAN Vintage Air Circulator by Vornado.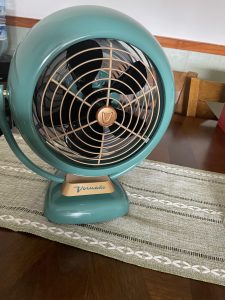 With its stylish, authentic, vintage style, this antique fan is sure to complement any house and provide the cool air your room craves. The fact that the fan is built of metal, making it durable enough to survive any region of my home, is one of the cool aspects I like the most.
In contrast to a couple other fans I have on hand, this one's large blades and motor are incredibly strong and not at all loud. Because of how quiet the fan is, I genuinely think of a white noise machine when I hear it.
Since I'm always hot, it's actually the ideal fan for me; when I don't want the air conditioning system on, I can just set it next to my bed to provide me a refreshing breeze. But keep in mind that the manual explains how to operate the fan correctly. In other words, it's designed to guide airflow away from you and around the room using a wall or ceiling as a target instead of directly at you. This will guarantee that you receive a quick, cold airflow that will have a cooling impact.
It has been noted that Vornado has a long history of making fans that don't make obnoxious noises, and that is still true today!
There are two colors for the VFAN Vintage Air Circulator fan: white and green. I own the green version, and I think the design is contemporary. Its 13.82-inch height and 7.85-pound weight make it the ideal size for any room in your house, no matter how big or little.
It's perfect for dorm rooms too; my daughter, who is about to leave for college, has already staked a claim on the VFAN Vintage Air Circulator fan!
Three speed settings, a full action pivot head for multi-directional airflow, and a 5-year limited warranty are all included with the VFAN Vintage Air Circulator fan. In the back you will see your on and off switch, easy access no doubt!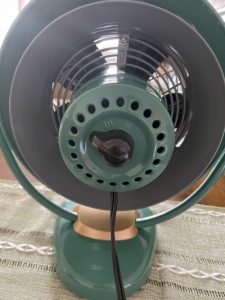 I enjoy the retro appearance of the mid-20th century and the fact that the Vornado emblem appears on the front of this VFAN fan, which is only one of the many reasons why I adore it. Naturally, the color is distinctive as well, but overall, it's just the ideal addition to my house, and I adore, the design and airflow of this fan. The best air circulator fans minimize hot spots, making your home a more comfortable environment so you can better enjoy life.
You can see this fan on the Vornado website, along with a ton of other awesome home goods including heaters, humidifiers, air purifiers, circulators, and fans!
Don't forget to keep up with Vornado via social media: Facebook| Twitter | Instagram | Pinterest| to keep up with all the latest information.