Avaliable on DVD March 3,2020 PAW PATROL: Mighty Pups Super Paws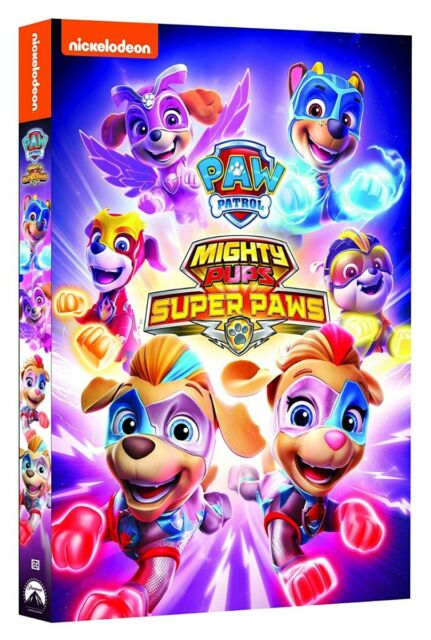 PAW Patrol is on a roll! The Mighty Pups are back and ready to use their super powers to help those in need. In this all new adventure, they team up with their new super pals, the Mighty Twins! There's more mighty action than ever in the PAW Patrol: Mighty Pups Super Paws DVD, arriving March 3, 2020. Packed with favorite characters, new surprises, and more, the PAW Patrol: Mighty Pups Super Paws DVD will be available from Paramount Home Entertainment and Nickelodeon Home Entertainment for the suggested retail price of $10.99.
PAW Patrol: Mighty Pups Super Paws episodes:
MIGHTY PUPS SUPER PAWS: When Super Kitties Attack
MIGHTY PUPS SUPER PAWS: Pups Meet the Mighty Twins
MIGHTY PUPS SUPER PAWS: Pups Save a Giant Chicken
MIGHTY PUPS SUPER PAWS: Pups Stop Harold's Deep Freeze
MIGHTY PUPS SUPER PAWS: Pups and the Big Twin Trick
MIGHTY PUPS SUPER PAWS: Pups Save a Mega Mayor

PAW Patrol: Mighty Pups Super Paws synopsis:
The pups are ready for MORE mighty action in these six Mighty Pups Super Paws episodes, including two double missions! Havoc takes over the town as the Mayor and the Kitty Catastrophe Crew receive these new super powers, causing super problems! Then the pups and their new Mighty Twin friends save the town's treasures from a new super-bandit villian named Ladybird! It'll take the Mighty Pups and their Super Paws to stop them and restore order to Adventure Bay! Plus, everyone gets a BIG surprise when Chickaletta gets mighty powers too!
PAW Patrol: Mighty Pups Super Paws fast facts:
Street Date: March 3, 2020
Catalog: 59210068000 (US)
Running Time: 1 hour, 28 minutes
Audio: Dolby Digital English 5.1
US M.S.R.P.: $10.99
About Nickelodeon
Nickelodeon, now in its 40th year, is the number-one entertainment brand for kids. It has built a diverse, global business by putting kids first in everything it does. The brand includes television programming and production in the United States and around the world, plus consumer products, digital, location-based experiences, publishing and feature films. For more information or artwork, visit http://www.nickpress.com. Nickelodeon and all related titles, characters and logos are trademarks of ViacomCBS Inc. (Nasdaq: VIACA, VIAC).
About Paramount Home Entertainment
Paramount Home Entertainment (PHE) is part of Paramount Pictures Corporation (PPC), a global producer and distributor of filmed entertainment. PPC is a unit of ViacomCBS (NASDAQ: VIAC; VIACA), a leading content company with prominent and respected film, television and digital entertainment brands. The PHE division oversees PPC's home entertainment and transactional digital distribution activities worldwide. The division is responsible for the sales, marketing and distribution of home entertainment content on behalf of Paramount Pictures, Paramount Animation, Paramount Television, Paramount Players, MTV, Nickelodeon, Comedy Central and CBS and applicable licensing and servicing of certain DreamWorks Animation titles. PHE additionally manages global licensing of studio content and transactional distribution across worldwide digital distribution platforms including online, mobile and portable devices and emerging technologies.
Disclosure: I was not compensated for this post, however I did receive free product sample to share with our audience!